Relaxing from your kobold clean up efforts in the crowded local tavern, you notice the tavern maids becoming increasingly stressed, and the innkeeper seems to be arguing with a few adventurers at the bar. Quickly, news spreads through the room about what's wrong - the bar is running out of beer! And there's no bread left to go with the meals! No honey cakes for desserts! In fact, on tonight's menu seems to be "Vegetable stew - eat it or starve".
The small village is running out of food to serve to the massive crowd of adventurers! Some adventurers have opted to remain in town anyway, despite the lack of variety of food (it won't be quite so bad with less people), but many are hitting the road, without being able to take any purchased supplies with them, planning just to eat what they can hunt and gather along their travels.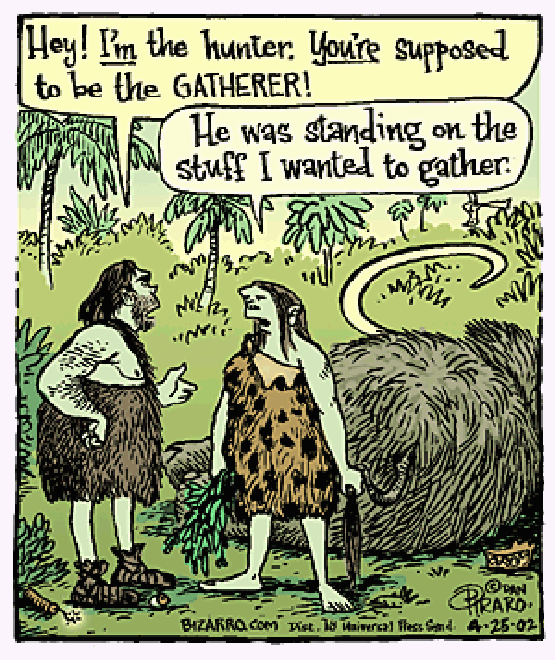 ------
Have you guessed this week's challenge? It's PALEO time! Your challenge is to go *one full day* on the paleo diet, as you hit the road eating only what you can find - no grains, no soy or legumes (green string beans are OK), no dairy, no sugar. Meat, fish, eggs, fruit, sweet potato and vegies are all fine. If in doubt, ask Google what's OK, or post in this thread.
If you're a vegetarian, or will for some other reason find the paleo diet not in keeping with your goals (or just too extreme a change from what you're used to ATM), you can choose to remain in the village, where there will still be limited amounts of bread and dairy etc. left for adventurers to purchase (at inflated costs). BUT there is *no sugar* left. So you'll need to go *one full day* with no sugar or sugar-sweetened foods. No cakes, cookies, pies, ice cream, soda. No added sugar, honey, or maple syrup etc. Artificial sweeteners are also not allowed. Fruit is fine.
If one of your personal challenge goals is already something like "Eat 90% paleo" or "Cut out refined sugar", then you need to do *two* full days on one of the above diets to earn your reward!
If you complete this challenge, you will earn +1 CON, and a warm fuzzy feeling of pride in your accomplishment. It's just a day or two, it's not forever, so GO FOR IT!
Pick any day (or two) this week that suits you best.
---
Want MORE of a challenge this week?
Invitation to come and play with the Druids!
If you are looking to do a little bit extra this coming week and it doesn't conflict with your other commitments... this is the perfect opportunity. Sign up with the Roman legions and go hunting Gauls for fame and glory (and you also get a dented Roman helmet, which you'll be able to trade in for something in the last challenge!).
This is completely optional and intended to be fun as well as encourage you to do that little extra! There won't be any additional stat point reward for joining in the Druids' challenge, but they'd love to have you.